Stutz Blackhawk 1976
# 2K 57W 6P 187515
This car was purchased by Mr. Ronald Slaymarker.
Lew Florence Motors from Seattle, Washington asked $62,000.00.
In 1981, Mr. D. Stelzner bought this car,
with an original mileage of 1,500!
In 2001, the car had 5,100 miles on the odometer.
The actual mileage: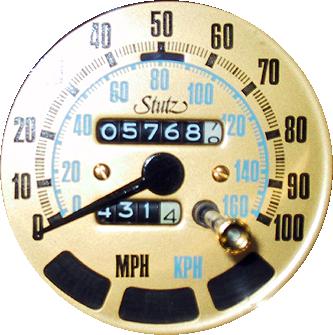 Mr. Stelzner seemed to be interested in a new Stutz,
click here to see a letter from the Stutz Company
In March 2003, Mr. Stelzner sold the car to "Autocollections".