Geneva Classics 2006
October, 6th - 8th
Part 2: Bugatti and Swiss Coachbuilders
Bugatti

This Bugatti T57 is in poor condition, obviously.
Less obviously, this Bugatti is just a model, scale 1:8(?).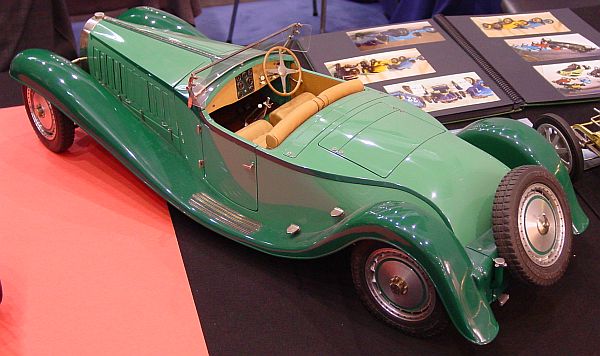 In better condition is this Bugatti T41 Royale "Esders", scale is 1:18(?).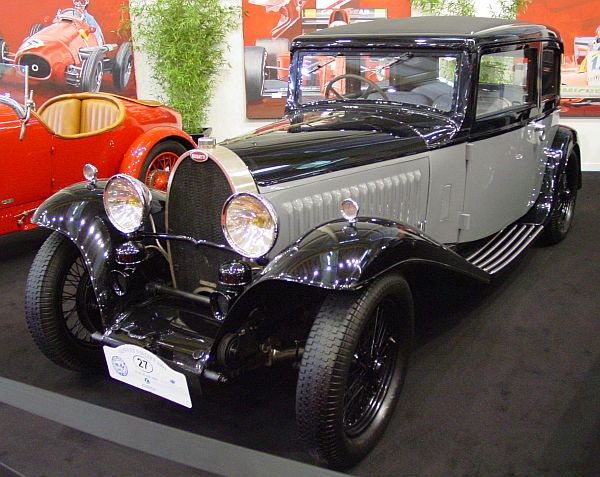 Bugatti T44, 1927
Coming back to real cars...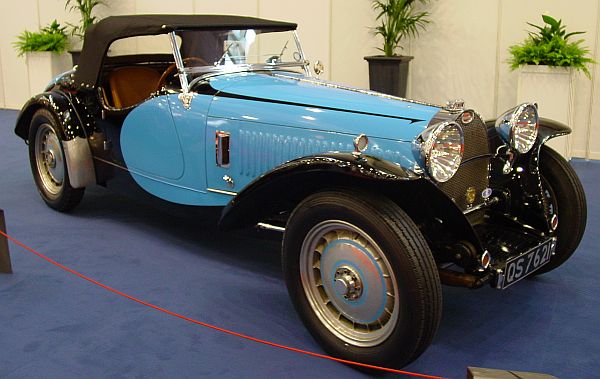 Bugatti T50S, 1931
After the war, the car was rebodied in Great Britain.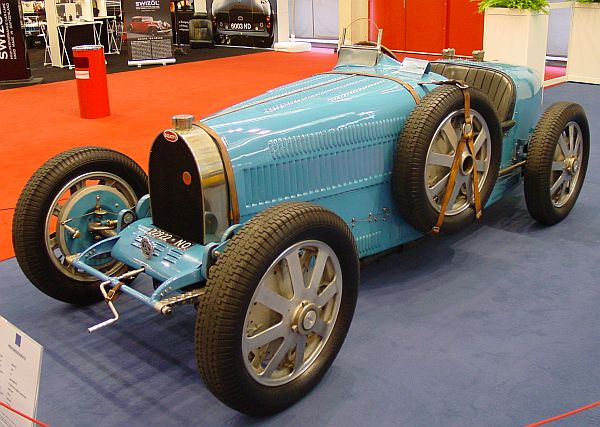 Bugatti T51, 1931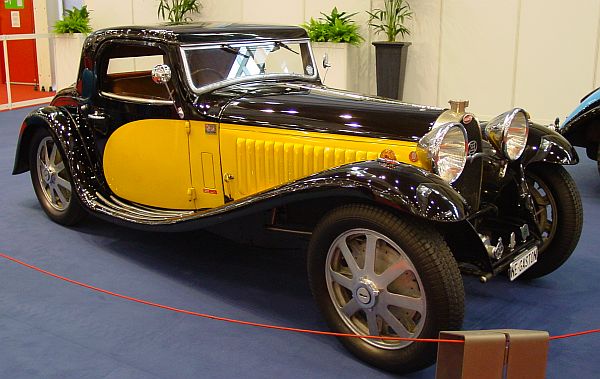 Bugatti T55, 1931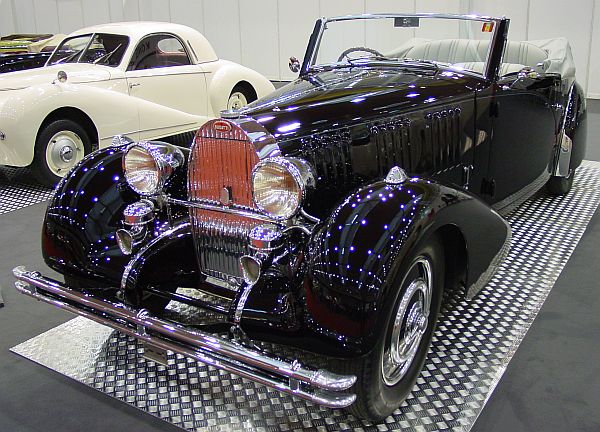 Bugatti T57 Convertible Graber, 1937
This T57 shows a Convertible body, built by Swiss coachbuilder Graber.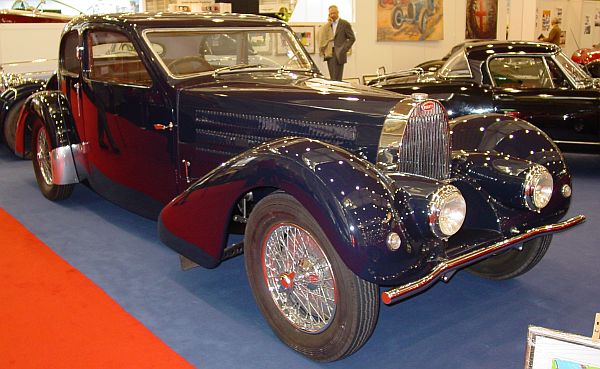 Bugatti T57 Ventoux, 1938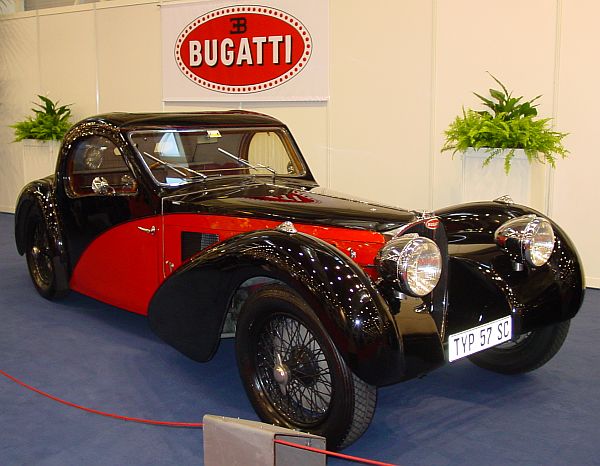 Bugatti T57SC Atalante, 1936
There were 17 factory-built Atalante, out of a total of 48,
and this is the very first, in addition to that, this car shows a rare canvas-sunroof.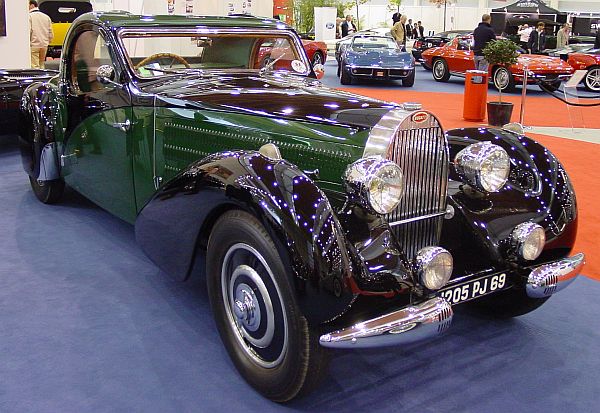 Bugatti T57 Atalante, 1939
This Atalante also shows a canvas-sunroof, but it's not a "SC".
The S stands for a more sporty chassis, which allowed a lower beltline, the C stands for a compressor.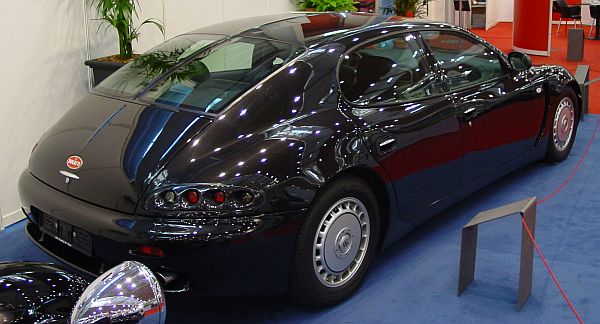 Bugatti 112, 1996
Ital Design showed a 112 prototype, but Bugatti had enough problems with the EB110, and finally failed.
So there is only one prototyoe, and two production cars, this one is street legal in Switzerland.
Later VW took over the Bugatti name, and now the Veyron is in production.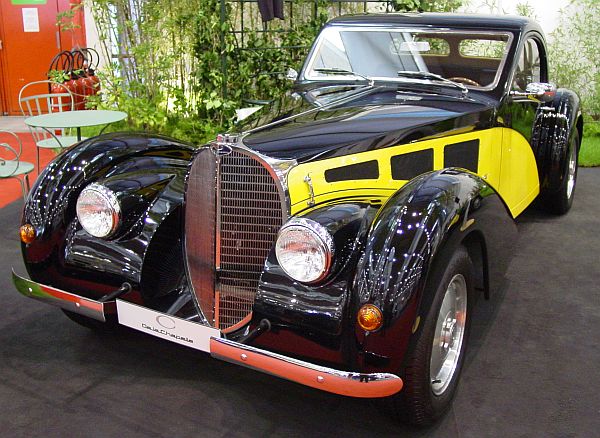 Another Bugatti T57 Atalante?
No, it's a De La Chapelle Atalante, a quality replica, powered by BMW.
Swiss Coachbuilders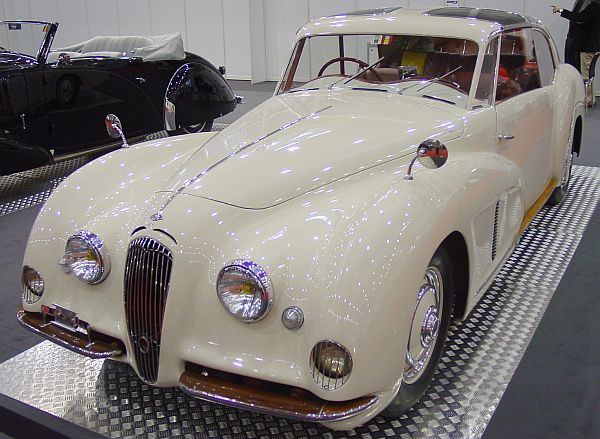 Riley 2 1/2 RHF, body by Koeng, 1949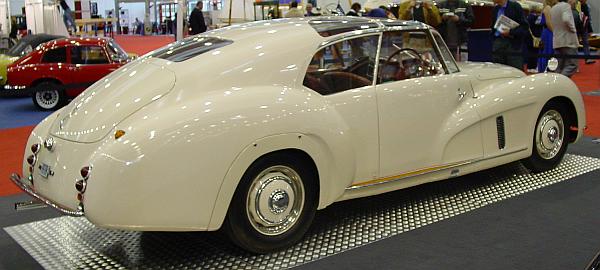 This extraordinary Koeng-Riley was also shown at the Oldtimergala 2005.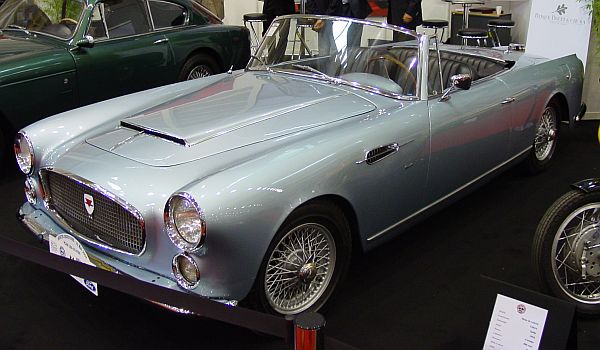 Alvis TD21 Convertible Graber, 1960
Next to the Bugatti T57 with coachwork by Graber, which is shown above, this was the second Graber cody at Geneva.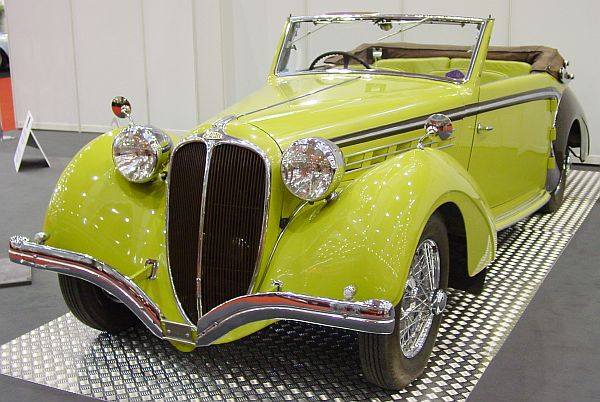 Delahaye 135 Coupé Des Alpes Convertible Tuescher, 1938
The Swiss Car Register showed this Delhaye 135 in rare mustardyellow.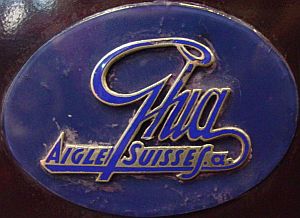 There were a couple of Ghia-Aigle cars.
Aigle is a small town in Switzerland, the company is not identical with the famous Italian coachbuilder.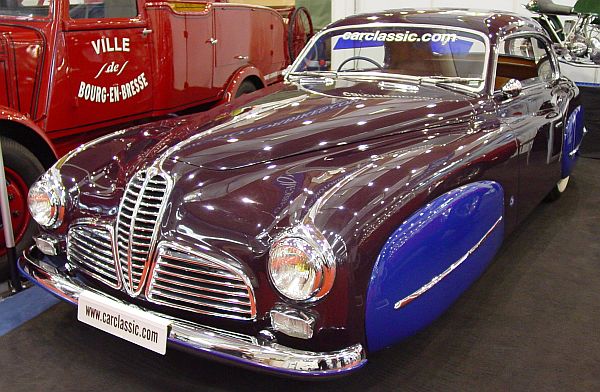 Delahaye 135MS Ghia-Aigle, 1949
With covered front-wheels, and strange color-scheme, this car was shown at the Geneva Motorshow of 1950, but back in 1950, the car showed a more common color: gold.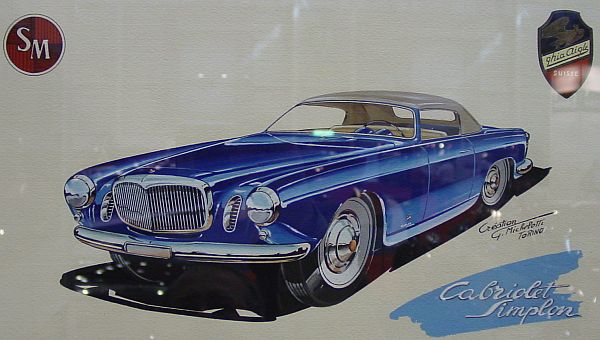 Grohe, classic-specialist offered next to some real cars also these design sketches, made by Michelotti for Ghia-Aigle.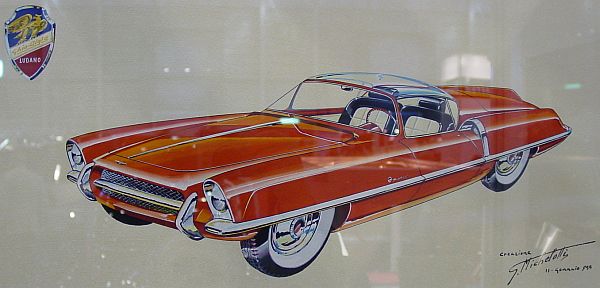 Another sketch for Ghia-Aigle, made by Michelotti.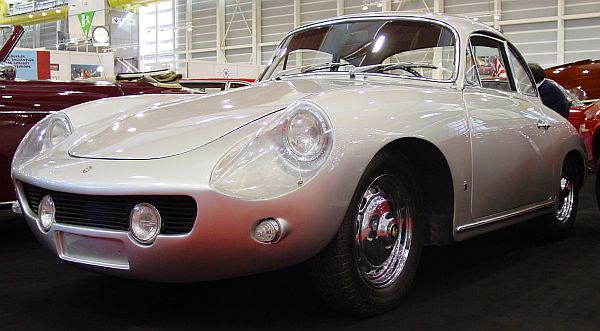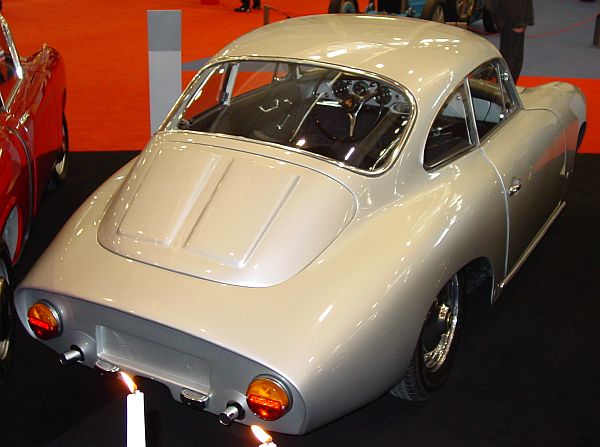 Porsche 356B S90 Ghia-Aigle Coupé, 1961.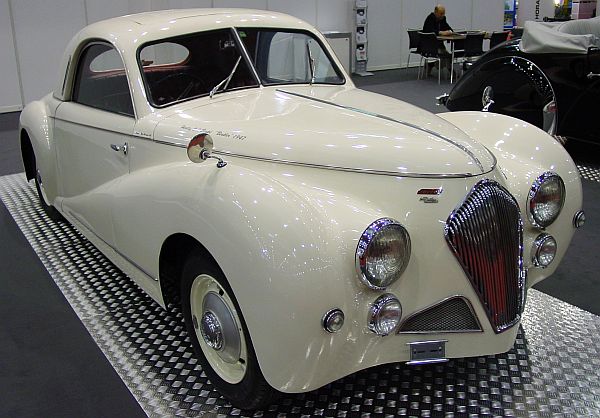 Healey 2,4-litre Beutler Convertible, 1949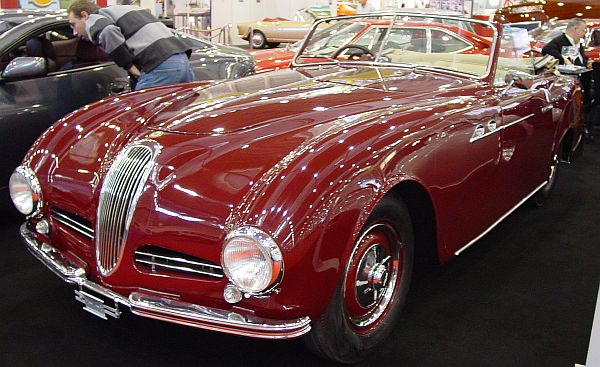 Jaguar XK120 Beutler Supersport, 1952
Another coachwork by Beutler, this one is based on the wellknown Jaguar XK120.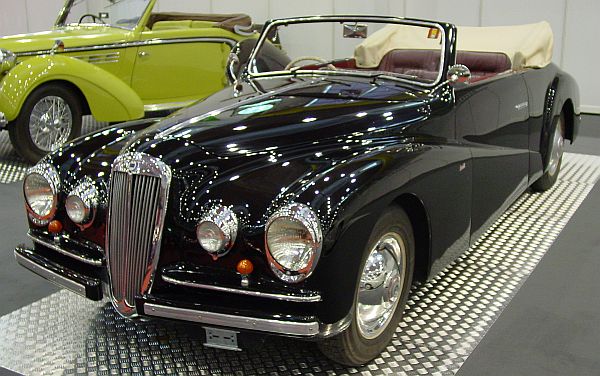 Lancia Aprilia Langenthal Convertible, 1948
There were only two Langenthal-Convertibles, based on Lancia, the other one I saw at the Oldtimergala 2006: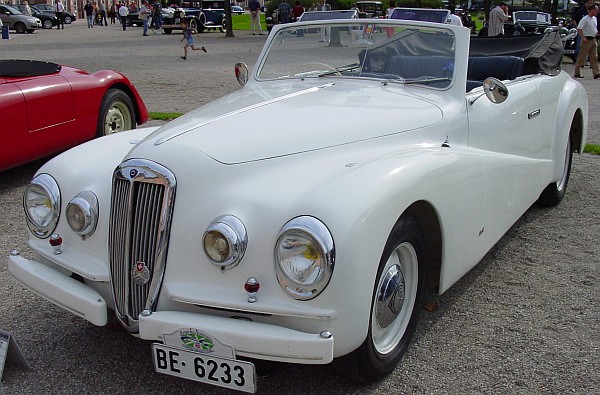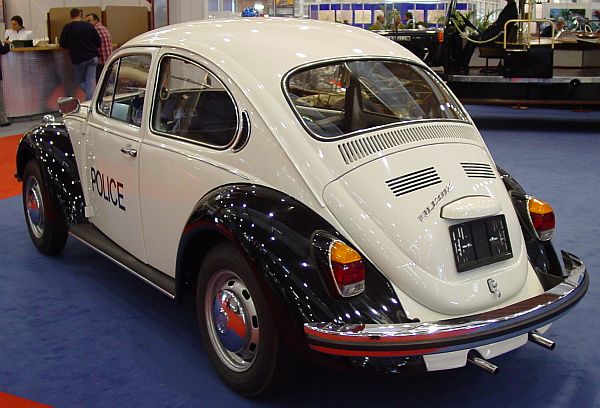 VW Käfer, Police of Geneva
No, that's not a Swiss body, but also a very Swiss car.