Concorso D'Eleganza Villa D'Este 2009
Special-Show Bugatti
Celebrating 100 years of Bugatti.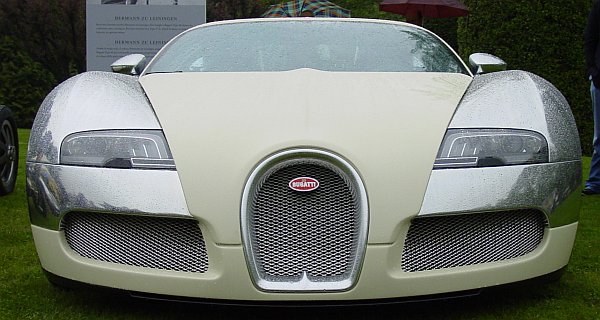 Back in 1909, Ettore Bugatti founded the Bugatti Company.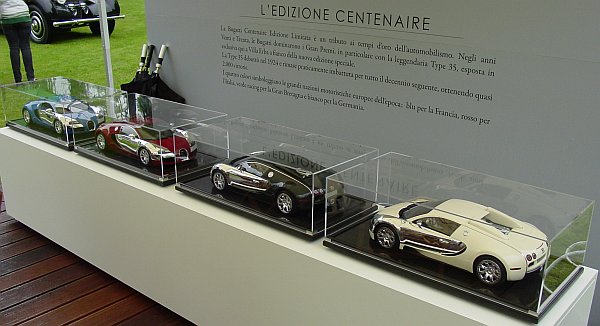 At the Concorso D'Eleganza, Bugatti showed a special series of Veyron-cars,
the "Centenaire"-Edition.
Each color-combination will stay unique!
Back in the thirties, when Bugatti had a lot of success in racing,
each country had a special color on the race cars.
French cars were blue, Italian ones were red, British cars showed the famous British Racing Green,
and German cars were white.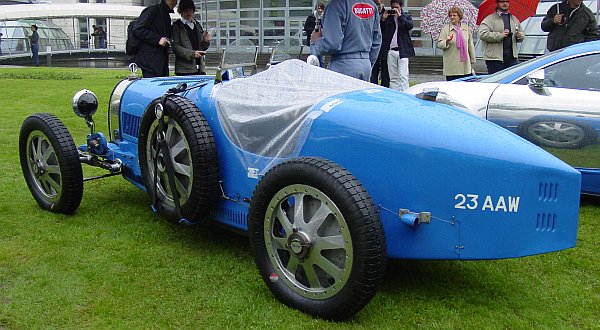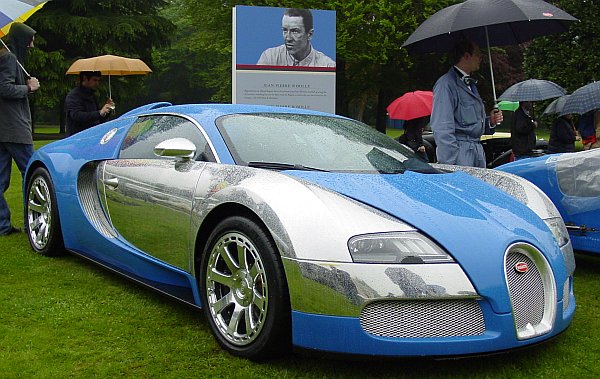 Wimille was a French Bugatti pilote.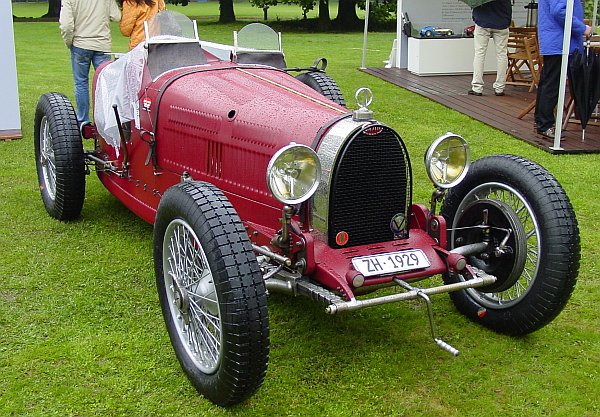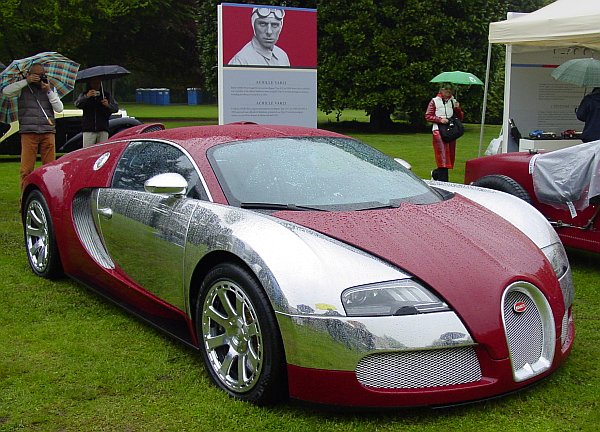 Varzi (Italy),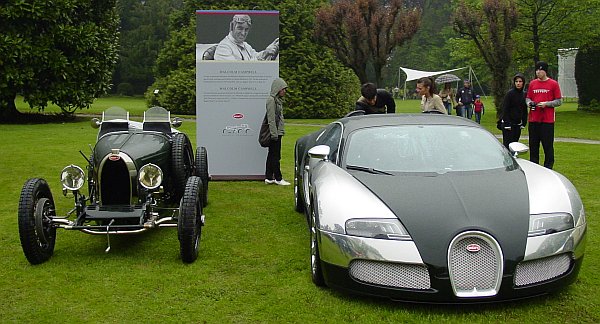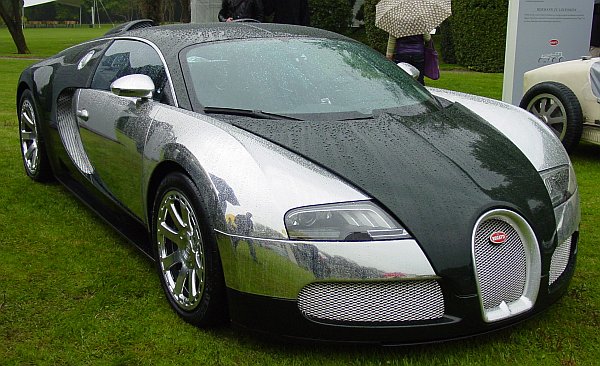 Campbell (Great Britain)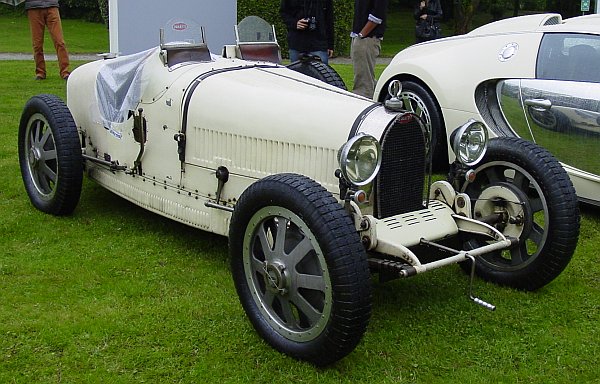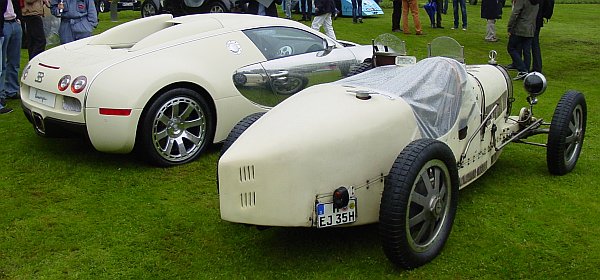 and Zu Leiningen (Germany).
With a price tag of 1.4-Million Euro, plus sales tax it's not surprising that these cars will stay unique...
Next to the Centenaire-cars, there was another Veyron, the GrandSport named Targa-version,
unfortunately the top was on the car all the time, due to the rainy weather.
Bugatti also had some old Bugattis to show: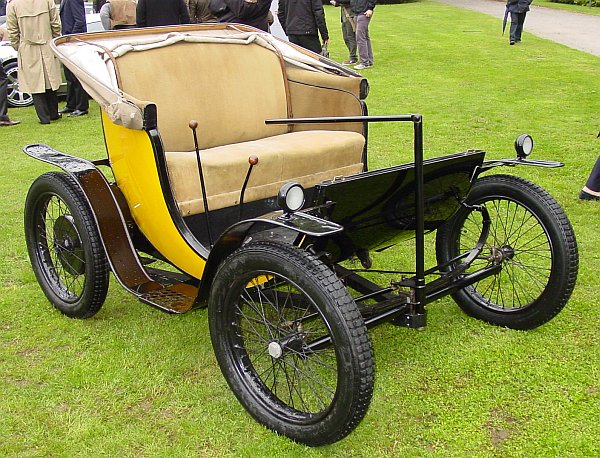 Hard to believe, but this is a 1931 to 1933 Bugatti, a Type 56.
The first one was built for Ettore Bugatti, so he was able to drive easily on the area of the Bugatti factory.
The "car" was powered by some batteries!
Several customers wanted to have such a small vehicle, too, so a total of 10 models were built.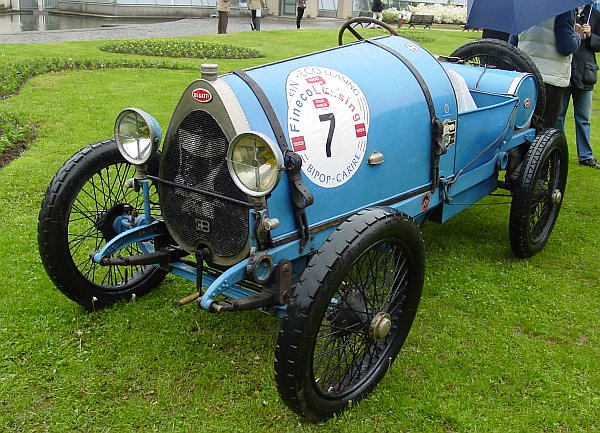 Here is a Type 13 "Brescia".
Presented in 1914, the car got famous after World War I, and from 1919 to 1926 about 2000 cars were built,
and many of them won races, and made Bugatti cars famous.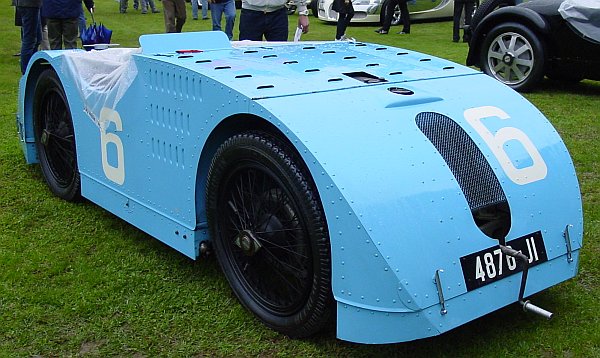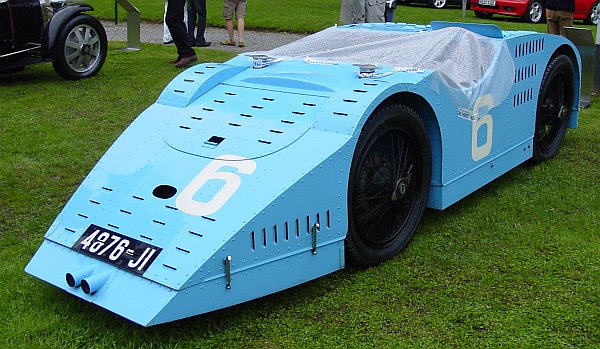 In 1923, Bugatti created the Type 32 Grand Prix car, designed like a tank,
because they wanted to make it aerodynamic, unfortunately it didn't work, so Bugatti gave up this idea for several years.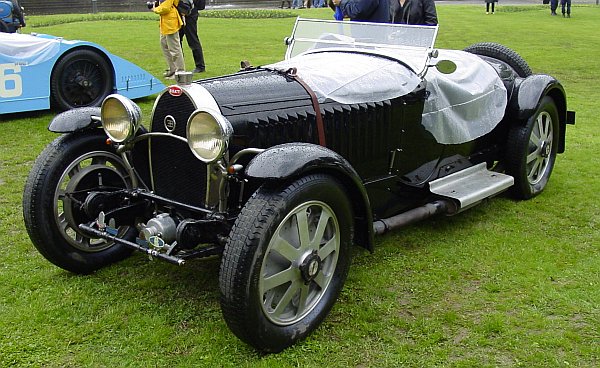 Only 38 cars were built of the Type 55, within the years from 1931 to 1935.
This special car was delivered to the King of Belgium.

Behind the Centenaire-Series, there was a T57 Atalante, one of the most beautiful designs on the chassis of a T57.