Stamps
There are several stamps showing cars of the old Stutz company.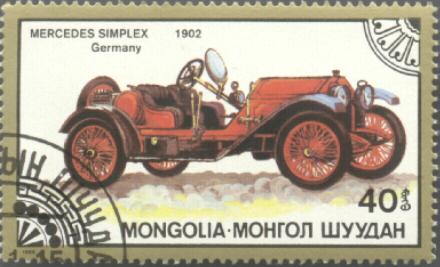 That's a Bearcat of 1912, not a Simplex! Issued by Mongolia in 1986.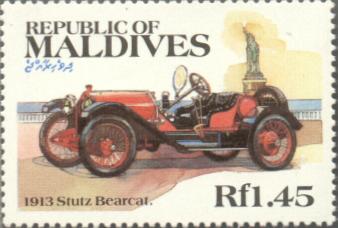 This 1913 Bearcat was issued in 1983.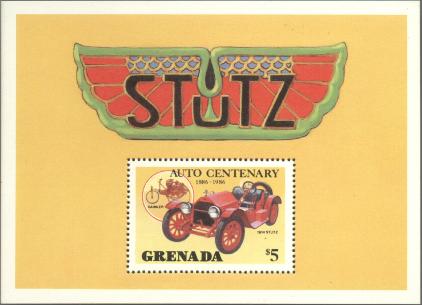 This individual block, showing a model of 1914 was issued in 1986.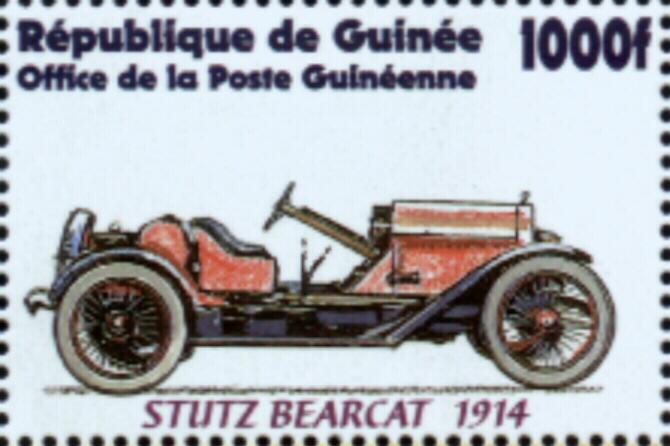 Another Bearcat of 1914, issued in 2002.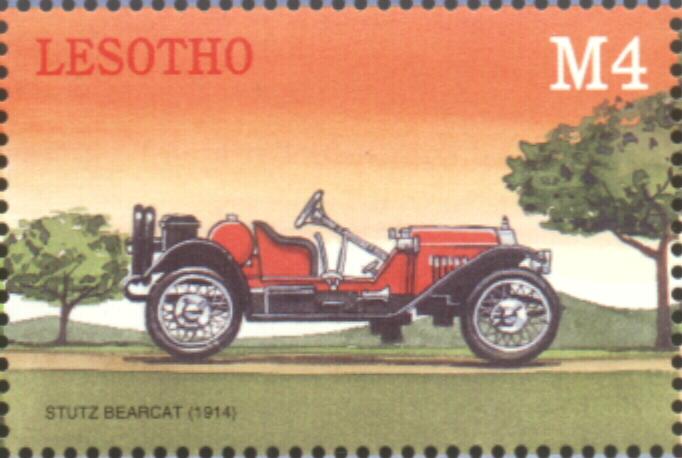 In 2001 (?), another 1914 Bearcat was issued by Lesotho.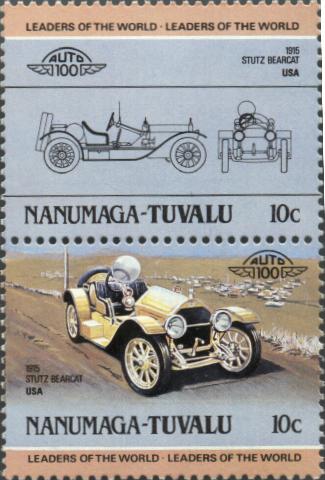 This 1915 Bearcat was issued by a little state, Nanumaga-Tuvalu.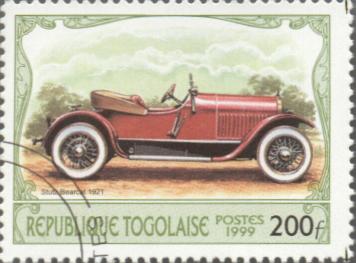 This 1921 Bearcat was issued in 1999.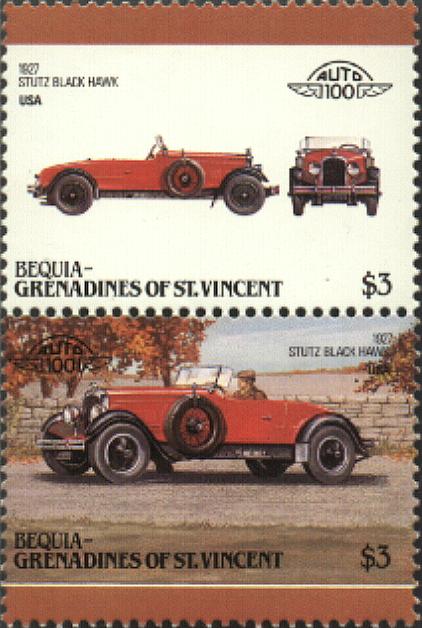 This Blackhawk of 1927 was issued in the late 80's.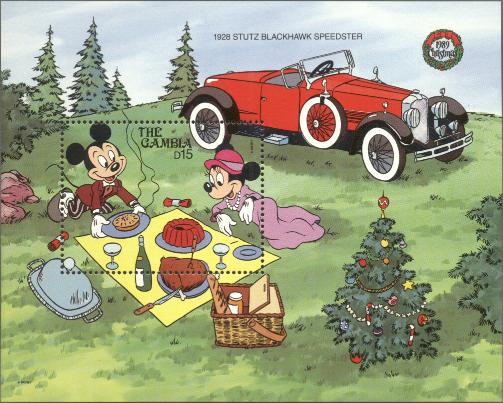 An individual block from 1989 shows the proud owners and their 1928 Blackhawk.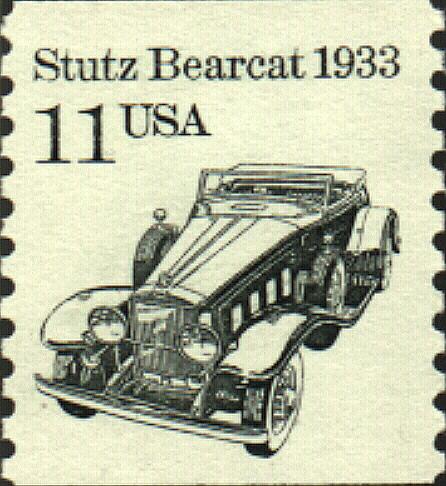 Issued by the United States of America, in 1985.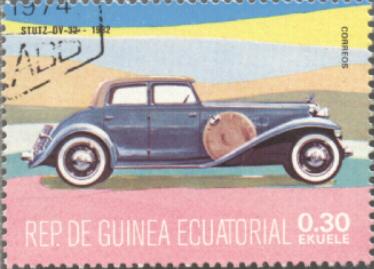 This 1977 stamp shows a DV32.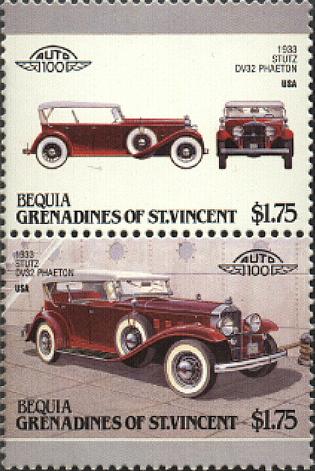 This 1933 DV32 Phaeton was issued in 1987.
The Exner-design of the Duesenberg-prototype appeared on a stamp-sheet of the
"Republique Centrafricaine".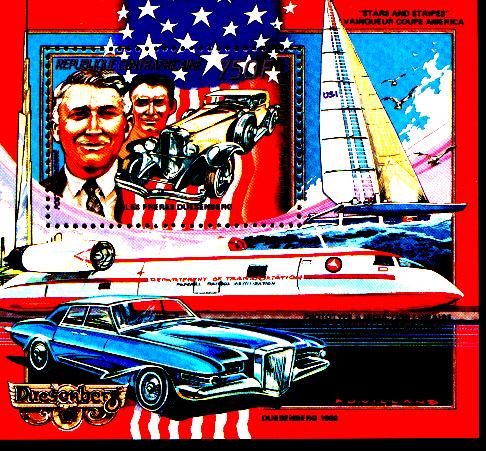 The Exner-Stutz has not been on a stamp, yet, BUT...

Not on the stamp itself, but on an individual block of 1988: Elvis' 1973 Stutz Blackhawk!
For the Millenium the Swiss post-office offered something special:
They designed a stamp-sheet with two blank "stamps" between the two real stamps.
The customer could design his "own" stamps, and so I designed first the "Bearcat"-version, which you can see above.
The sheet was produced by the post-office, so it is a real stamp.
I ordered 10 sheets, so there are 40 Bearcat stamp-stripes.
One sheet will be kept in my Stutz-collection, one sheet in my collection of car-stamps, so there were 32 to be sent out.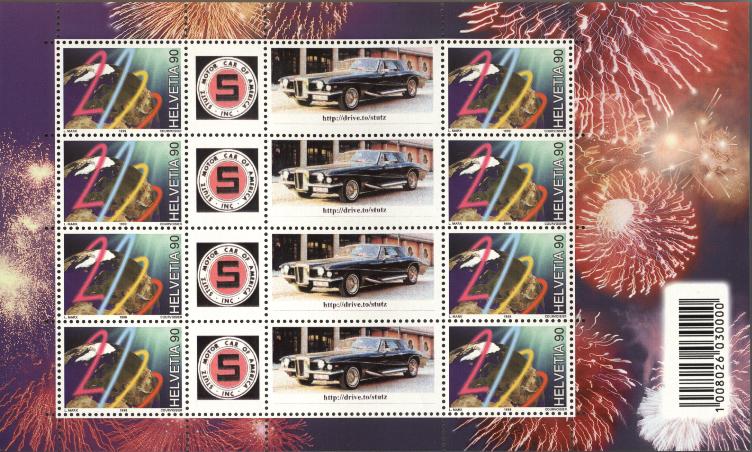 Later I decided to create a second stamp, showing a Blackhawk of 1971.
Only 6 sheets were produced.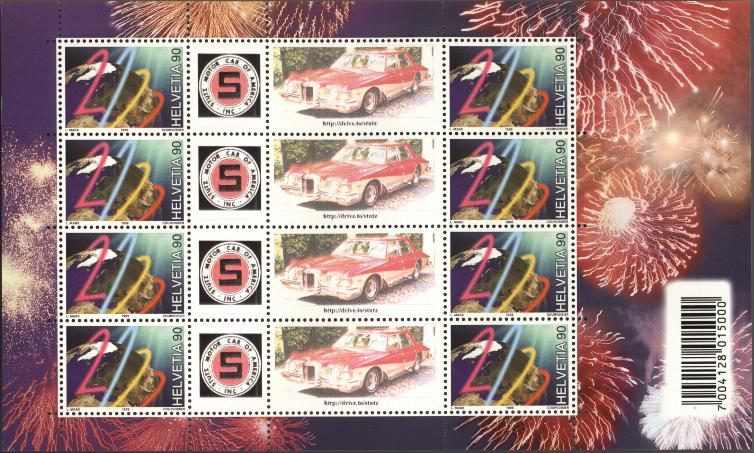 The third stamp is showing a IV-Porte.
Only 4 sheets were produced.
click to see other collectibles:
collector-cards
car-care products
fragrance
glasses-cases
modelcars
postcards