Stutzy Diorama
by Serge Hudon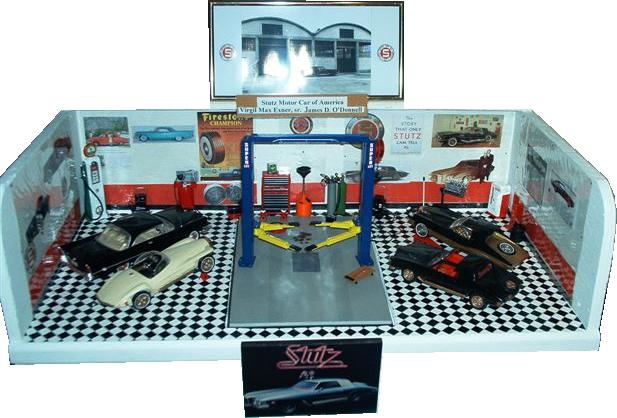 Serge Hudon built this stutzy diorama.
Have a close look, and you will find a lot of interesting details.
The cars in the "garage" are all designed by Virgil Exner, sr.
There is Chrysler 300C, the Mercer Cobra, an early Stutz Blackhawk,
and the Stutz prototype of 1966.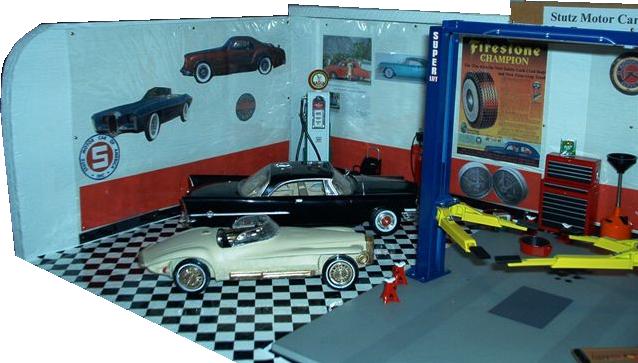 Here you can see the Renwal model of the Mercer Cobra,
and, in the background is the Chrysler 300C.
On the wall you can see pictures of the Exner Bugatti, and the Chrysler-Ghia D'Elegance.
Here you have something very special. A Stutz on a lifting ramp.
Even more special: we don't have any models of a Stutz.
So Serge had to build it on his own!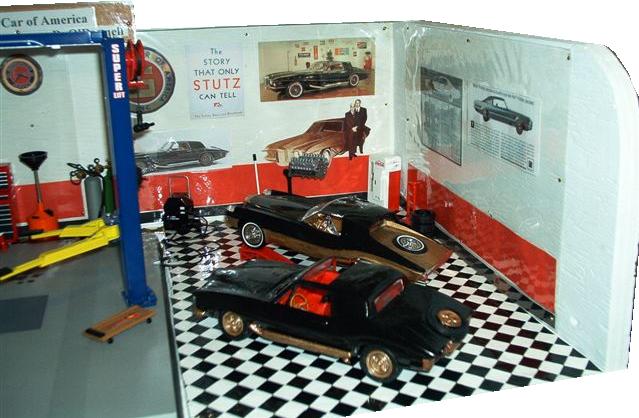 Another view of the 1:25 Blackhawk (in front), next to the Renwal model of the 1966 prototype (which was never built in reality).
On the wall you can see a press-photo (used in the small folder, for example),
a photo that was used in the black sales-brochure, showing the Blackhaw clay-model.
Above that photo is one of the most impressive Stutz pictures that I have ever seen, showing the car of Ken Ramsey.
On the other wall, you can see photos of the Stutz-base, the Pontiac Grand Prix.
Thanks to Serge Hudon for sharing these photos with other Stutz enthusiasts.
So we know what to do in wintertime, and we know that it will be difficult to top this...
back to other collectible items