Pontiac Grand Prix
1969-1977
When James D. O'Donnell and Virgil M. Exner started the idea to build a "New Stutz",
they had to think for details.
Exner, responsible for design, made the suggestion to put the body on an existing chassis,
the Pontiac Grand Prix with its General Motors drivetrain and its long hood was his first choice.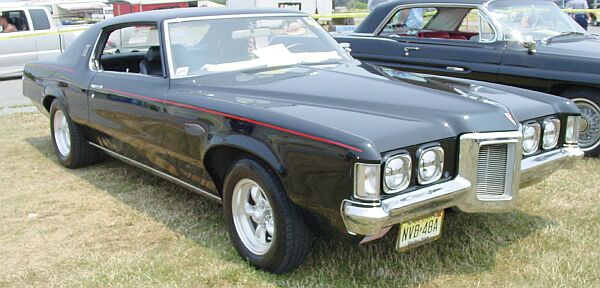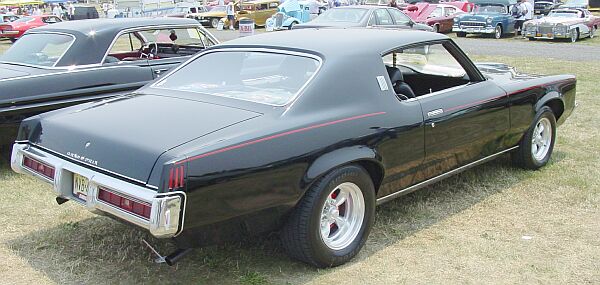 1969 Pontiac Grand Prix, photos taken at the 2005 All-GM-Meet at Carlisle
see pictures of Dwaine Miller's 1969 Grand Prix
O'Donnell and Exner made an appointment with the current Pontiac-Boss,
John Z. DeLorean, he gave his O.K. and promised support.
When the clay-model of the Blackhawk was ready,
O'Donnell purchased on October 1st, 1968, the first Pontiac Grand Prix.

This car was the very first Pontiac to be converted into the very first Stutz, the Blackhawk prototype,
that was presented at the Waldorf Astoria Hotel, New York, in January 1970.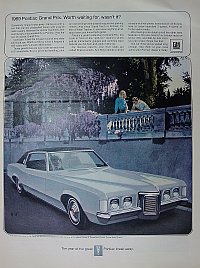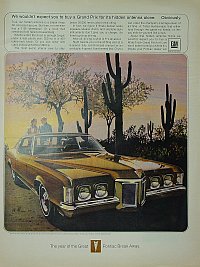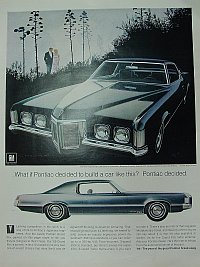 click on pics to see bigger photo of 1969 Pontiac Grand Prix ads
Pontiac presented for 1969 a totally renewed Grand Prix model.
112,486 Pontiac Grand Prix were built in 1969.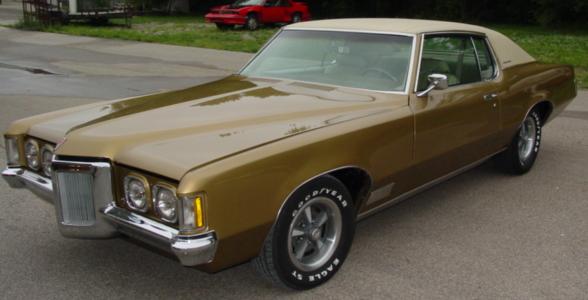 more pictures of Joe's 1970 Grand Prix
Only small changes were made for 1970.
To see scans of a 1970 Grand Prix brochure: click here
In 1970 there were 65,750 Grand Prix' produced,
in 1971 there were 58,325 built,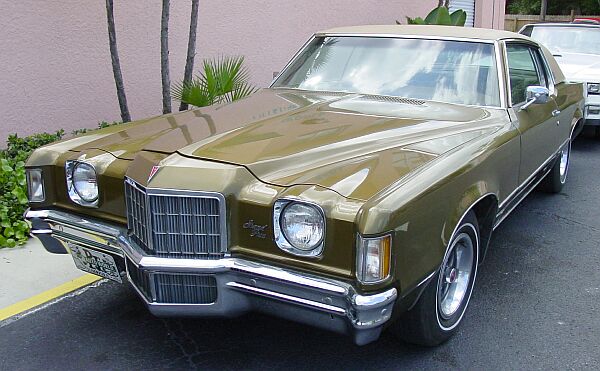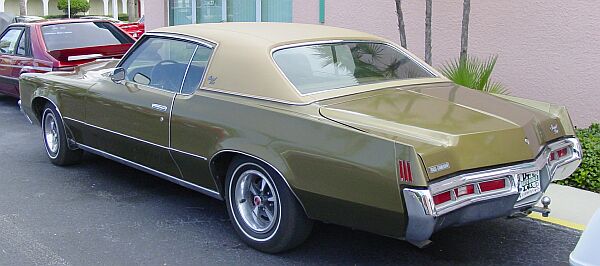 These photos were taken during my trip to the 2004 Stutz Meet.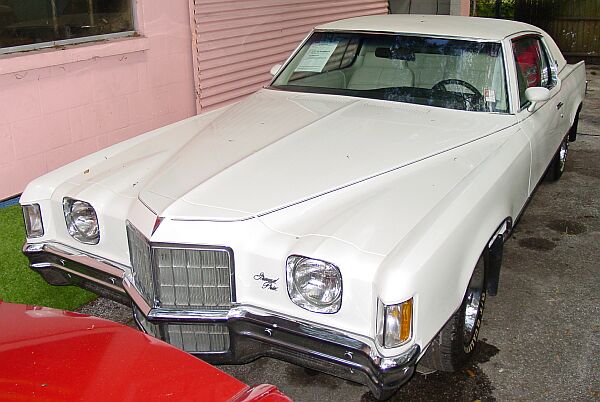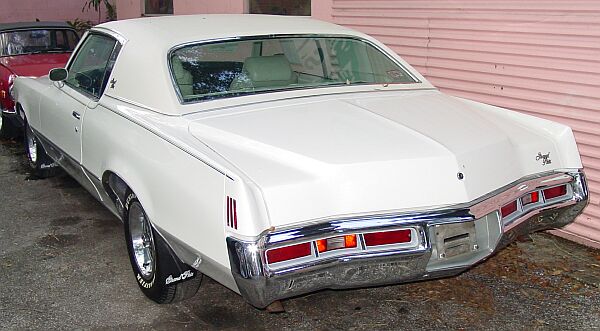 in 1972 there were 91,961.
Pontiac placed an interesting ad, in 1973.
The text starts with: "Stutz... Bugatti... Duesenberg"
Telling that these cars are all "museum pieces", now,
well Stutz was back in the market, and the Grand Prix was the technical donor-car.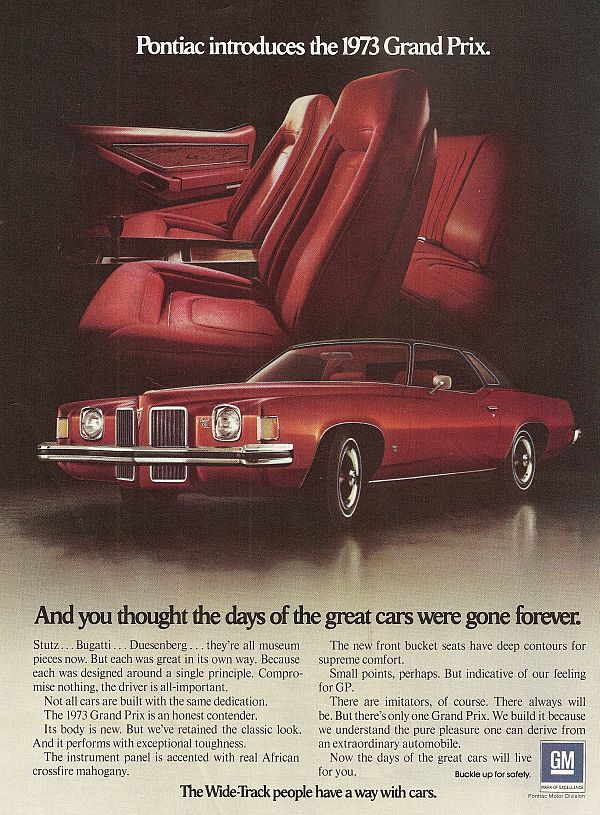 Thanks to Claude Ricks for the scan!
In 1973 there were 133,150 Grand Prix, plus 20,749 Grand Prix SJ versions.
The following picture is showing a 1974 model: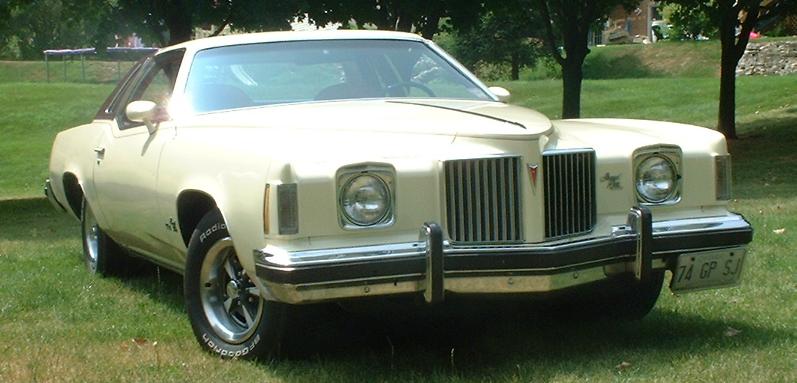 more pictures of Fior's 1974 Grand Prix
1974 Pontiac produced 85,976 "Grand Prix J"-models, plus
13,841 models of the SJ-version.
In 1975,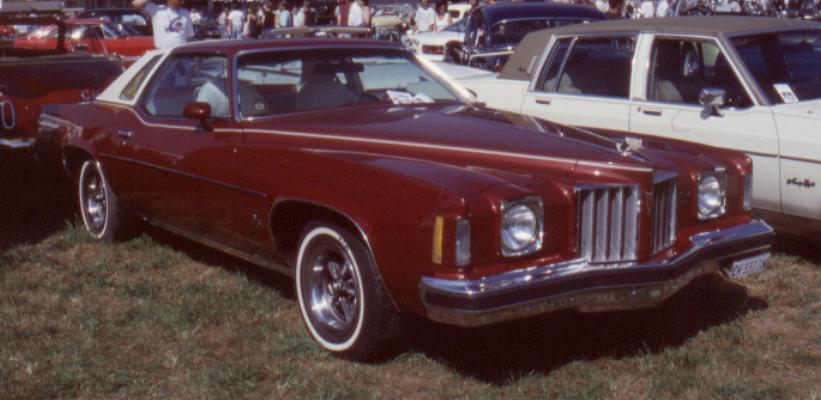 64,581 cars of the J-model were produced,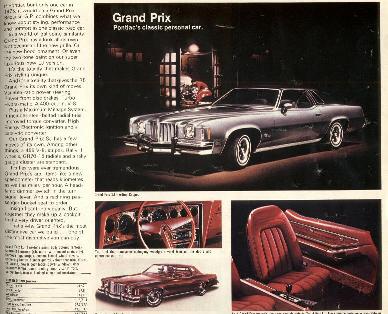 7146 SJ-versions left the factory plant,
and 14,855 LJ-models were built.
I found a dealer-postcard of a 1976 Grand Prix: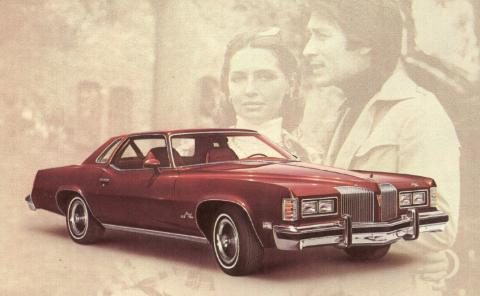 click here, to see some photos of a 1976 Grand Prix


1976 Pontiac Grand Prix LJ Anniversary-Edition, owned by Marc Zisook, click here to see more photos
In 1976 there were produced:
110,814 base-versions
88,232 SJ-versions and
29,045 LJ-versions (an option package, that costed $625.00)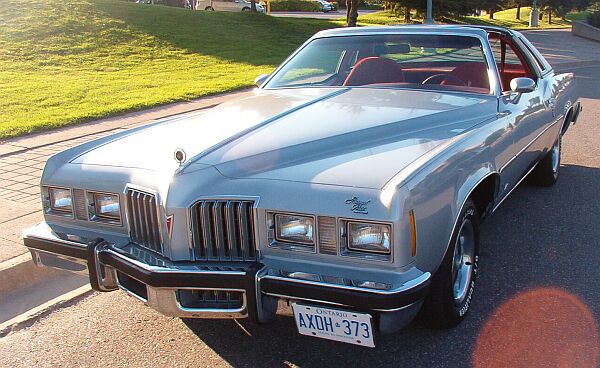 1977 Grand Prix LJ, owned by Denis Beaulieu
click here to see pictures of Jed's 1977 Grand Prix
In 1977 there were 168,247 base versions, 66,741 SJs, and 53,442 LJs built.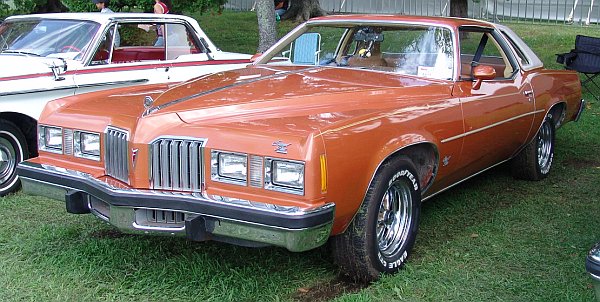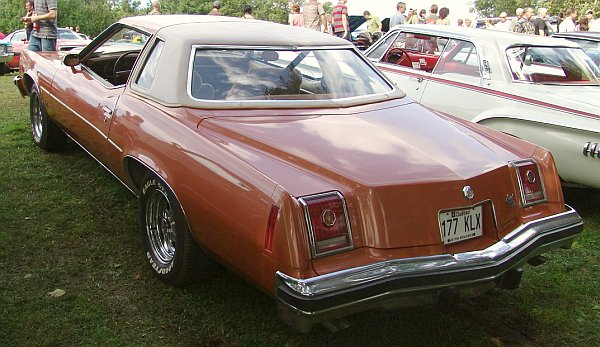 photos by Serge Hudon
Pontiac downsized the 1978 Grand Prix, so it was to small to be the base for a Blackhawk.
Stutz used the 1977 model as base untill 1979, when they restyled the Coupé, and put it on a chassis of a Pontiac Bonneville 2dr-Coupé.
I'm searching for more pictures, brochures and dealer-postcards.
Please, contact me, if you have something to support this website.
see models of 1971 & 1972 Pontiac Grand Prix