1968(?) Stutz
Bearcat & Blackhawk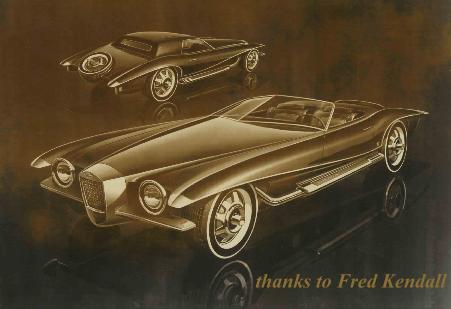 In January 2004, I got this scan from Fred.
It shows the design of a pre-production Stutz.
In my opinion, this design is something like the "missing link" between the Revival-Cars,
and the Blackhawk, that went into production.
The front of the Renwal-Stutz was completely revised.
Compared with the design of the 1967 Bearcat,
almost each detail was changed, besides the spare-wheel.
If you have a careful look, you will see that Virgil Exner borrowed several details from the rest of his Revival-Cars.
The front-design shows similarities to the design of the Exner-Bugatti, and the Revival-Duesenberg.
The side-view has some details of the Mercer-Cobra.
Interesting design-elements are the big wheels, and the chromed tops of the fenders.
go to:
Blackhawk-website
Bearcat-website