Virgil M. Exner, jr.
The Spynx-Project
The Spynx-Series
There are three basic designs for the Spynx:

The one showing the "normal" roof-line,

the one with a roof-line that was obviously inspired by the Renwal-Stutz,

and a Spynx with a different body-shape, called X-form,
more sporty, more interesting, and of course: more EXNER!
This body shape, even it is also a Spynx, I will show on an extra-website.
For creating a new Stutz-Revival car Mr. Exner decided to show a roof-line which is similar to the Renwal-Stutz,
the "normal" roof-line was just to normal for such a dream-car.
And, of course, the new Stutz should show its spare-wheel...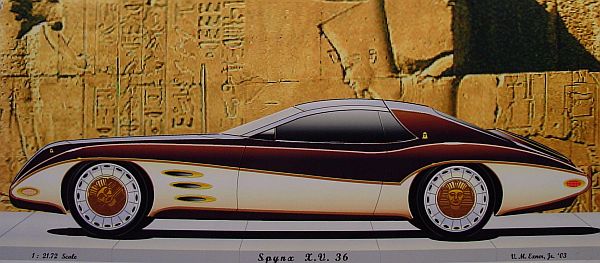 There was no need for an open spare-wheel, back in the 70's, and Mr. Exner told me that persons of the factory asked him for help, trying to convince his father that the Stutz shouldn't show this styling-detail. But there was no chance...
So there is definitely no need for an open spare-wheel in the 21st century,
but a Stutz without that detail will be hardly a Stutz.


Mr. Exner is not only interested in exterior design,
he wants to prove if his cars will have the space for the passengers, and all the needed technical equipement, so he does also some sketches like the two which you can see above. (Have a look at the upper sketch, it's a proposal for a four-door car!)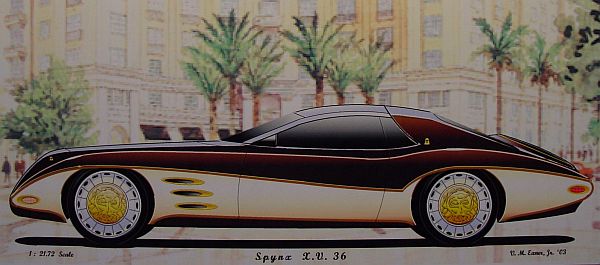 Here you can see a colored sketch.
Note the three holes behind the front-wheel.
The original Stutz had side-pipes, a detail that is illegal in most of the countries,
so these holes makes the side-view more interesting,
without having fake side-pipes, like the Stutz of the 70's.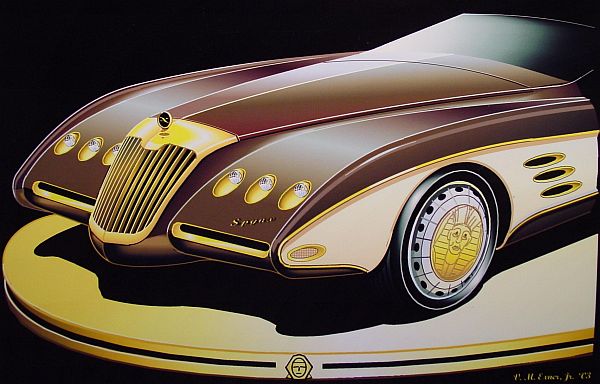 Here you can see a front-view, the radiator makes the car more elegant,
and of course the gold-trim on this car looks very expensive.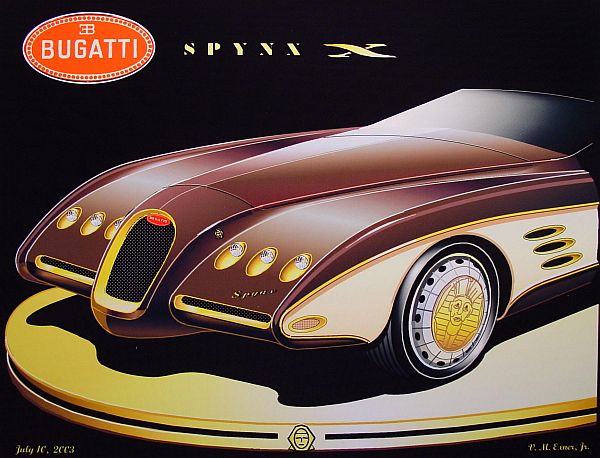 Also available as a Bugatti?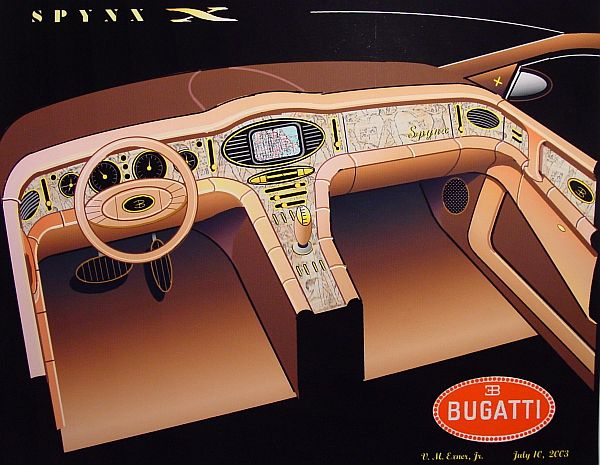 A look at the interior.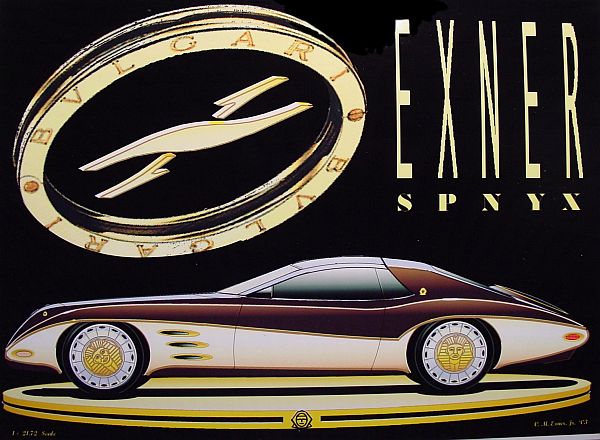 Porsche sells sunglasses, and watches, a lot of other car-manufacturers do similar things, so why not have a Bulgari car?
Please note:
All these design sketches are copyrighted by Mr. Exner. All rights reserved!
Do not use without written permission!!!
the Spynx-Project:
Aero
Imperial
Spynx
Stutz
X-Series
Royale
see the new Revival Cars:
2004 Stutz
2004 Imperial
2005 La Salle