Virgil M. Exner, jr.
The Spynx Project
2004 Chryler Imperial

In the series of designs for the Spynx-Project, there were two design-ideas that got names of new Revival-Cars.
One was the 2004 Stutz Revival, the other is this New Imperial.
Virgil Exner, sr., created the most famous Imperials, built in the late 50's / early 60's,
showing the Forward-Look with impressive tailfins.
When Cadillac presented the Cadillac Sixteen (click here to see my non-Stutz-website for that car),
Virgil Exner, junior, was inspired to create a new Imperial, putting tailfins on the basic design of the Spynx-Project.
Of course a car that had to be better than the Cadillac,
in the tradition of Chrysler's Imperial.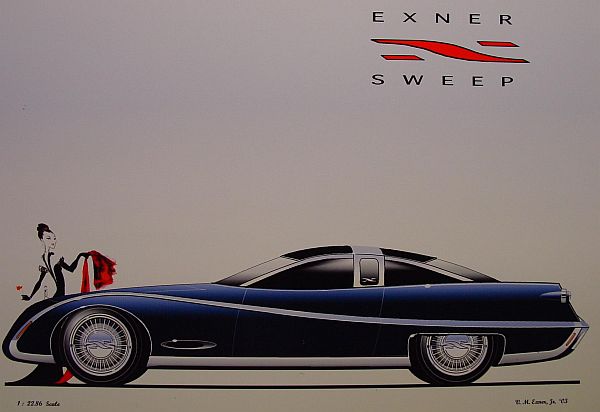 Using design symbols of the past, showing the split grille inspired by the 1955 Imperial,
the tail-lights of 1959, and of course the tail-fins.
I think the Aero-car was restyled, getting a new rear-design,
and a different roof-line, caused by the visible roll-bar.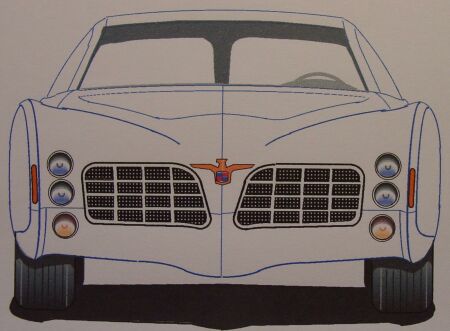 The front design shows some similarities to the design of the early Chrysler 300-series.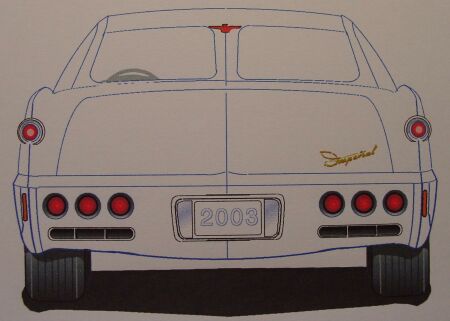 And the rear-design is of course pure Imperial design.
A modern looking top-of-the-line Coupe.
I think the Chrysler dealers would like to have such a car for sale...

An exceptional car should be powered by an exceptional engine,
and of course Chrysler has to do better than GM with the 16-cylinder engine of the Cadillac Sixteen.
The solution of this "problem" is quite simple:
two 10-cylinder-engines put together to create one "Double-Ten"-engine,
the result of this 1000c.i. (about 16-liter) real big-block will be about 1200 H.P.!
The 2004 Imperial, an impressive car,
here some technical data:
length: 566cm / 223in
width: 208cm / 82in
height: 137cm / 54in
wheelbase: 343cm / 135in
Double-10-engine (=20cyl.!!!), 16,4litre/1000cu (concept of mating two Viper-engines!!!), 1200hp
Please note:
All these design sketches are copyrighted by Mr. Exner. All rights reserved!
Do not use without written permission!!!
the Spynx-Project:
Aero
Imperial
Spynx
Stutz
X-Series
Royale
see the new Revival Cars:
2004 Stutz
2004 Imperial
2005 La Salle