Virgil M. Exner, jr.
The Spynx-Project
The Spynx-X-Series
The side-view of these Spynx-variations show an x-design, which is (in my opinion) more sporty, more interesting, and more EXNER.
Of course, I'm a Stutz-fan, and so I dream of a new Stutz, but these designs are wonderful,
a little more exotic, and so I think they would make a great Stutz Revival!

The first sketch shows the x-design, combined with the "normal" roof-line,
without the spare-wheel option.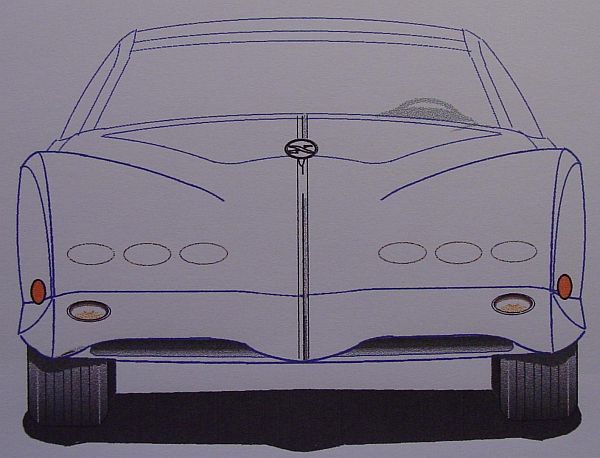 xxx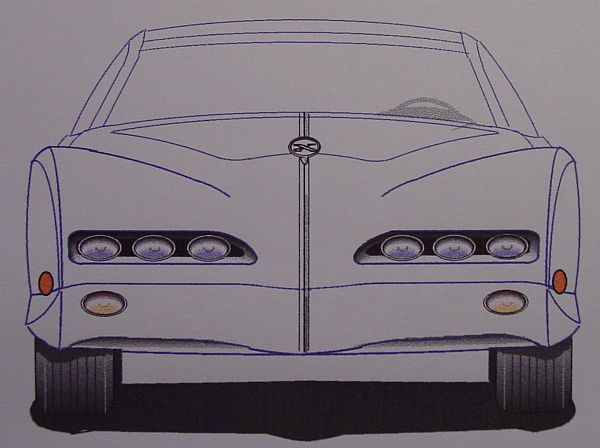 xxx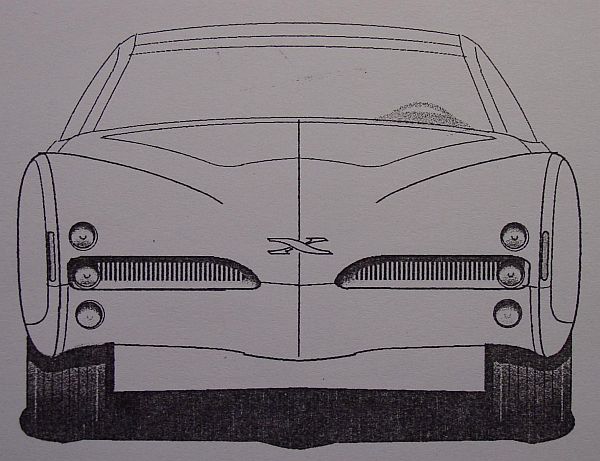 There are some different front-designs,
I think the combination of the x-design side-view with a real radiator grill (like on the 2004 Stutz Revival car) is my favorite.

The same side-view, but here with the optional spare-wheel package.

Looking through the car, to see that there is enough space for rear-passengers.

This color picture showing a modified front-design, looks really aerodynamic.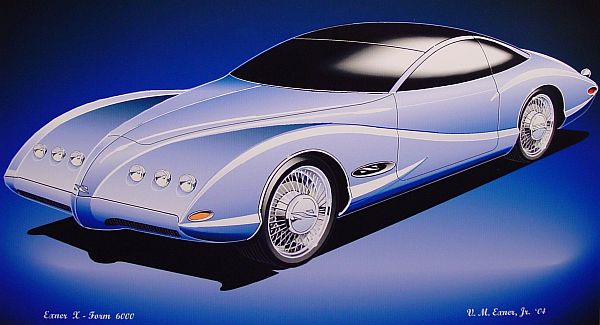 The rear-view with the spare-wheel motif.
Here you can also see free-standing tail-lights, like on a late 2004 Stutz design sketch.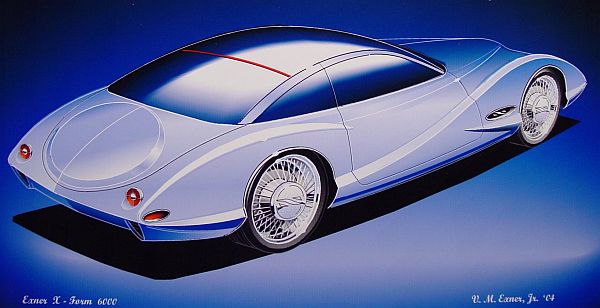 Here you can see the difference of the rear design, without, and with the spare-wheel motif.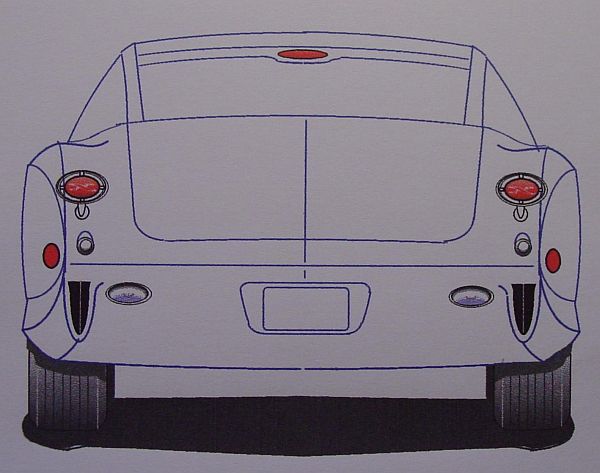 xxx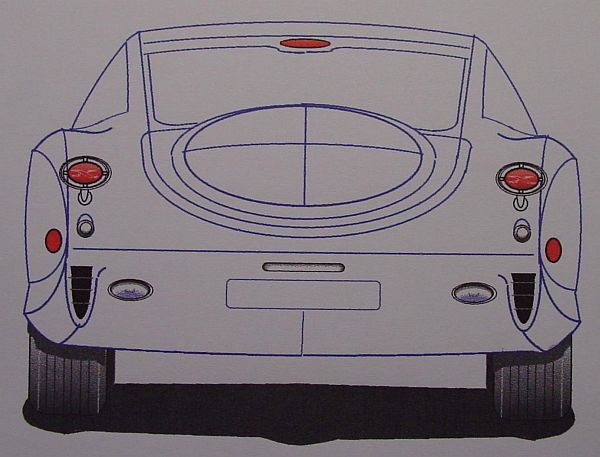 Instead of showing a fake spare-wheel cover,
Mr. Exner shows here a center-rib.
The spare-wheel-theme is good, but I have to admit that this detail is even more interesting,
because it is not a "fake", and it's a detail that you can find also on some old Bugattis.

The rear-view shows this interesting center-rib. Including a split rear-window.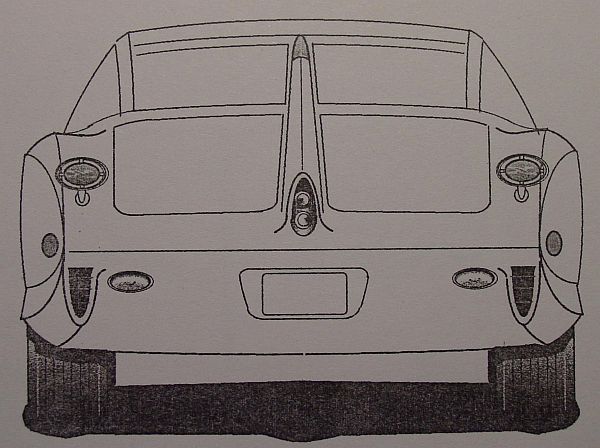 And here is my absolute favorite design,
the Spynx X-Form with fin.
Mr. Exner, sr. was father of the fins at Chrysler,
so his son revived the theme.

Do you remember the Plymouth XNR, or the Assymmetrica?
Well, here's the new one!

I prefer the asymmetric one, a fascinating idea of a new super-luxury-sports-coupe!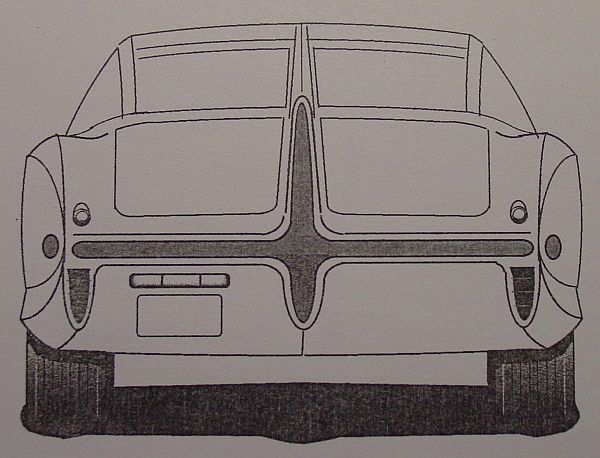 xxx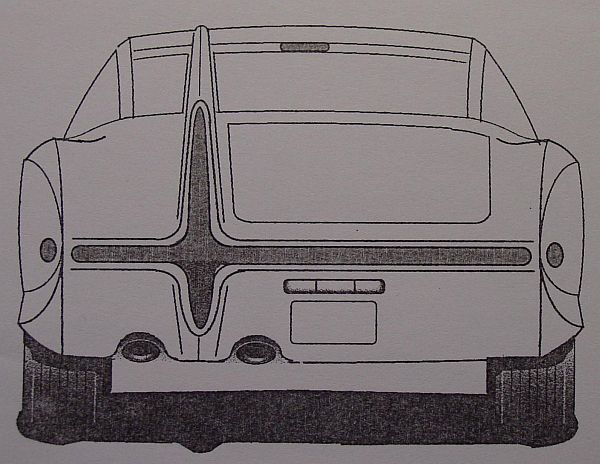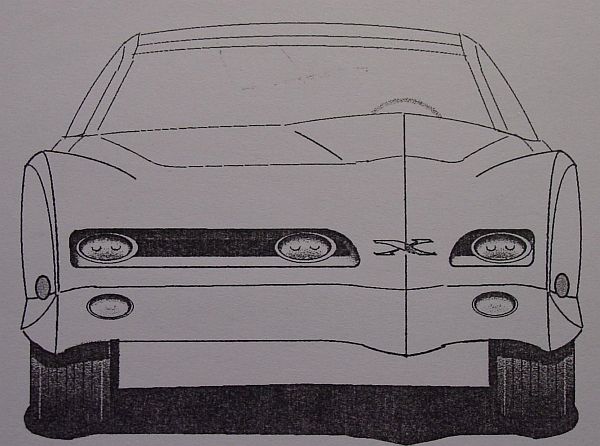 Here's another color-sketch of this dream on wheels...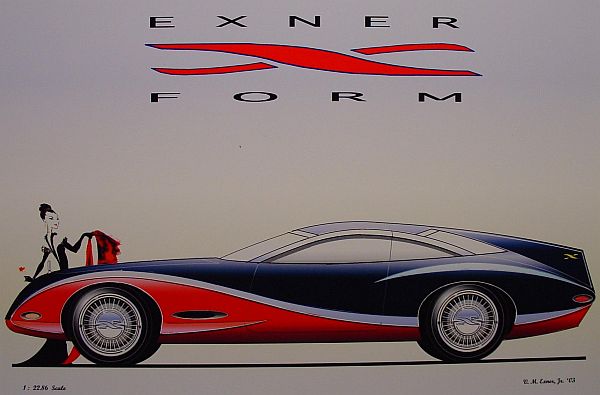 Please note:
All these design sketches are copyrighted by Mr. Exner. All rights reserved!
Do not use without written permission!!!
the Spynx-Project:
Aero
Imperial
Spynx
Stutz
X-Series
Royale
see the new Revival Cars:
2004 Stutz
2004 Imperial
2005 La Salle