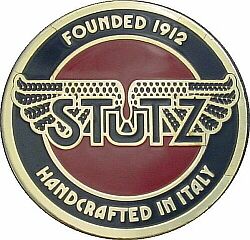 Specials
James D. O'Donnell's resume of his Stutz experience
The founder of the new Stutz Company wrote a very interesting article
for his professor at Eckerd College, when he had retired as Stutz President.

Jim Milliken's photo-album
Jim had the chance to take photos of various Stutzes in Saudi Arabia,
where he lived from 1974 to 1993.
Tony Alvarez' photo-album
Tony Alvarez was hired as the first, and only Stutz mechanic, by the Stutz Company,
back in 1971, and he stayed with the company until 1988.
Stutz Meet 2004
The 2004 Stutz Meet
photo session on Graceland
Memorabilia for the Stutz Meet
Adrian Chadwick's Photo Album
Branko Kavcic's Photo Album
Jim Milliken's Photo Album
Bryan Ramsey's Photo Album
Lee Secrest's Photo Album
Butch Sedlow's Photo Album
The Klemantaski Collection
This photo-collection offers thousands of interesting car-photos, some of these are very interesting for Stutz-enthusiasts, showing the production of Stutz at the Padane factory
Stutz Meet 2005
The 2005 Stutz Meet
Branko Kavcic's Photo Album
Ron Swartley's Photo Album
GM Cars at Carlisle
Jim Milliken's Stutz Trip, January 2006
In early 2006, Jim made a trip to California. On this trip, he had the chance to see 12(!) Stutzes!
10th Anniversary Stutz Homepage