Jim Milliken's Stutz Showcase
at the Punta Gorda Muscle Car City Museum' Cruise-in
February, 20th, 2010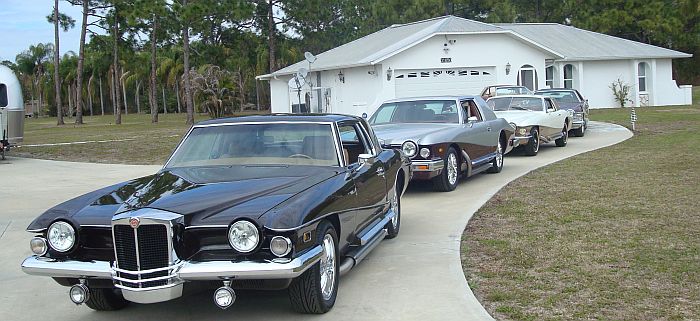 Shortly after Jim Milliken finished the restoration of his 1975 Stutz Blackhawk,
he agreed to show all his Stutzes at the monthly Cruise-in at the Punta Gorda Muscle Car City Museum.

A local newspaper, The Sun, featured Jim's Showcase in an article, and Jim wrote the following story about his automobiles:
My interest in cars began at an early age.
I grew up in Southern California in the 1950's when the first T Birds and Corvettes were coming out and car models changed almost every year.
My first car was a 1949 Hudson my Dad gave to me so I could get to work.
I named it the Green Blob after the horror movie of the time.
As soon as I could afford it I bought a 1949 Ford business coupe.
The rage then was overhead valve engines so I bought a 52 Studebaker-V8 and installed in the Ford.
That car I named 'KantaForder'.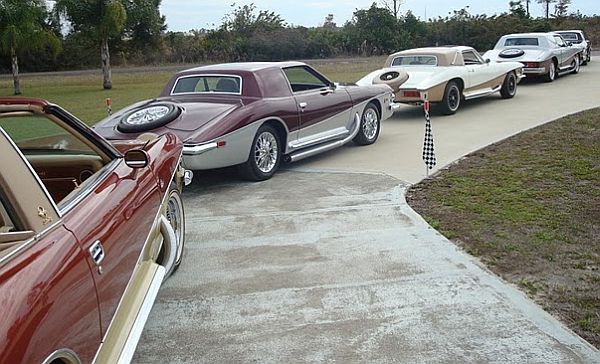 Next I moved up to a 53 Lincoln Capri coupe with 40 inch glass packs and 48 inch bell tip exhausts going out under the rear axle and spinners.
From there I got practical for a bit and bought a Volvo P444 (looks like a miniature 48 Ford coupe).
But I rolled it over a 60 foot bank off the freeway and replaced it with a 56 Ford convertible.
After college I got a 57 T Bird.
By this time I was headed to Saudi Arabia as an engineer for an oil company.
In the 1980's I was living in Dhahran a city about 240 miles from Riyadh, the capital.
The capital had a lot of car lots selling leftover toys of the royal family.
I started looking at Rolls-Royces, Ferraris and Lamborghinis, but they were all European spec and couldn't be brought back to the US of America.
Then I came across a 1975 Stutz Blackhawk preowned by the son of the King.
I first heard of Stutz when I saw a picture of a Stutz with Elvis Presley's doctor standing alongside, this was back in about 1973.
Elvis had given it to him for keeping his voice in good shape during his concert years in Las Vegas.
The car in Riyadh was in pretty good shape and I could get it back to America without issue,
because, although the coachwork was done in Italy, it had US spec GM running gear.
So I bought it.
The next year in Riyadh I ran across another Blackhawk that was six years newer and for even less money.
I've had that car for a quarter of a century and I still like telling the story.
I shipped the cars to the US in 1986 and put them in storage in a 40 foot steel shipping container for 14 years until I retired and found a place to settle…
which was Punta Gorda.
During a visit to Graceland in 2002,
I met some Stutz-owners and realized that there were a lot of other collectors around the world and my interest in the marquee was reignited.
In 2004 I chanced upon a 1972 Blackhawk in the Ocala Penny Trader that had only 14,000 miles on it.
In 2006 I took a trip to Denver, Las Vegas and California to look at a total of 14 Stutzes
and made an offer on five of them and bought the 1979 Bearcat convertible, which is the crown jewel of my collection.
In 2007 I located a first year Blackhawk in Santa Maria CA and it completed all four body styles made for the Blackhawk in 18 years the car was produced.
And the Bearcat is one of the two body styles of convertible made.
Less than 600 cars were made of all body styles which included the Blackhawk, Bearcat, IV Porte, Victoria, Diplomatica, and Royale.
The latter four were all four doors or limos.
I've taken one or more of the cars to Stutz meets at Graceland, Carlisle PA, and Notre Dame in South Bend and really enjoy sharing the cars and their history.
Jim, thanks for sharing this story with us!
Thanks to Dan Wulff and Dave Hackney for letting me use their photos!
Dave's website with hundreds of super-photos of wonderful cars: www.cruzinslideshows.com
(He took, of course, additional shots at the Showcase event...!)
see Jim Milliken's other cars: