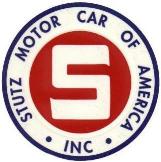 What happened in 2006?
22 updates, only 7 additions to the registry, and no Stutz Meet, not a very stutzy year?
Well, there were some other projects...
Bengt Dahlgren produced a mini sculpture of a 71 Blackhawk,
and we will get a high-quality model of a Blackhawk in scale 1:43.
The homepage got more page-views than ever before, over 1-Million hits in 2006, a new record...
January, 2nd:
- just fixed the link for two scans (pic 1, pic 2) on the website for the Stutz Sedans
January, 8th:
- added two photos of the Chrysler D'Elegance, thanks to Virgil Exner
January, 17th:
- added new pictures of a 1981 IV-Porte, for sale in Germany
- added new photos of a 1974 Blackhawk, owned by Gil Eshom II
- replaced a photo on the website for different rear-design of Stutzes
- added a 1978 Blackhawk, owned by M. Yacoobian, to the for sale-website
January, 22nd:
- added a website for Worden Wilder's 1974 Blackhawk
- added a photo of a 1977 Pontiac Grand Prix to the Pontiac-website
February, 19th:
- added a website for Exner's 1953 Chrysler Special, built by Ghia
- a lot new photos of Ron Payne's 1973 Blackhawk
- new photos of a 1972 Blackhawk, preowned by Butch Sedlow
- added two photos of Worden Wilder's 1974 Blackhawk
- renewed the website for the Chrysler D'Elegance, it was auctioned for $1,188,000!
- added some articles to the literature website
March, 5th:
- Christian Troël searchs a new home for his 1976 Blackhawk, it's for sale
I visited the Geneva Motor Show, so I wasn't able to work on the Stutz Homepage, but I was able to see some interesting cars.
Have a look at the photo-websites:
Geneva 2006
Geneva 2006 old cars
Geneva 2006 new concept cars
Geneva old concept cars
I saw the prototype of the new Chrysler Imperial, absolutely not related to Exner, but you can compare it to the design that was created by Virgil Exner, jr., the 2004 Imperial.
I also saw the Pininfarina Sigma concept of 1969, which was designed by Paolo Martin, who was involved in the design of the Stutz Royale.
March, 15th:
- added a website, showing photos, taken by Jim Milliken on his Stutz-trip to California
March, 26th:
- added a website for a new collector item, a mini-sculpture of a 1971 Blackhawk
April, 2nd:
- added a website for a 1972 Blackhawk, that was added to the registry, too
- added two more cars to the registry, a 1972, and a 1976 Blackhawk, still waiting for photos
- added a 1981 Blackhawk to the "For Sale"-website, again
April, 9th:
- the "Japanese Bearcat" was sold! Jim Milliken, the new owner, sent me some great photos.
The Bearcat is his fourth Stutz, next to his Blackhawks of 1972, 1975, and 1981
April, 30th:
- added a website for a 1972 Blackhawk that is for sale, I added the car to the registry, earlier this month
- added two photos to the website for Ken Bist's 1976 Blackhawk (Great job! Another Stutz back on the road!)
- renewed the registry
May, 7th:
- added a 1976 Blackhawk to the registry
June, 5th:
three Stutzes were sold:
- 1972 Blackhawk Convertible
- 1975 Blackhawk Hot
- 1975 Blackhawk
- added a 1974 Blackhawk to the "for sale"-website
- renewed the information for another 1974 Blackhawk, that is for sale
June, 13th:
- finally we relocated a Bearcat II in Germany, and finally there are some nice photos, it's for sale
July, 2nd:
- added a VIN of a 1972 Blackhawk to the registry, the car just was on Ebay
- Ken Ramsey sold his 1971 Blackhawk, back in December 2005
- Ken Ramsey bought a 1976 Stutz Blackhawk
- Johnnie Taylor's 1975 Blackhawk was sold to Jan Stutts
- N. Mattson sold his 1975 Blackhawk, about one year ago (thanks for the info to Bryan Ramsey)
- TNT offers the 1974 Blackhawk that was owned by Frank Military (Ex-Armand Ruocco car), added new photos :o)
- Ken Bist sent me another photo of his restored 1976 Blackhawk
- Gary Cochrane sent some additional shots of his 1974 Blackhawk, and his 1981 Blackhawk (see above...)
July, 9th:
- added a VIN of a 1973 Blackhawk to the registry, more info coming soon
- a 1972 Blackhawk is no longer for sale, Ken Ramsey added the car to his collection
- added an interesting photo of a Stutz Royale with the Saturn-staff to the Royale website, thanks to Helmut Becker
- added an issue of Auto Welt (2/1981) to the list of magazine-articles
September, 17th:
- added some info, and some new photos of the 1971 Blackhawk Convertible
- added a 1972 Blackhawk to the registry
- added an article to the Chrysler 300 website (Collectible Automobile, issue 23/3, October 2006)
- added some appearences of Stutzes to the media-website, (to see pics, look at this website: http://www.imcdb.org)
- added two items to the website of magazine literature (Japanese articles: Hani Car Collection /Motor Magazine, March 1974)
- Barney Loucks sold his Victoria
- added pics of two Bayliff Packards
- additional pics of Bjorn Granheim's 1974 Blackhawk
- renewed the website for the 1975 Blackhawk, owned by Johannes Narum
- added a picture to the website of Ken Ramsey's Stutz Collection
not related to Stutz, but if you are interested in some other rare, nice cars, too,
here you can find 350 pics of the European Concours / Oldtimergala 2006
October, 8th:
- added new photos of Johannes Narum's 1975 Blackhawk
- renewed website for Paolo Martin, added extra websites for his Ferrari Modulo (1970), and Dino 206 Competizione (1967),
these photos were taken at the Geneva Classics
November, 11th:
- added VIN for Elvis Presley's 1973 Blackhawk to the registry, thanks to Fred Kendall, thanks to Gary Cochrane for a copy of the original Pontiac bill
- another 1973 Blackhawk is for sale, again
- added pitures of models to the website for Paolo Martin's Sigma and Modulo
Novemver, 26th:
- Worden Wilder sold his 1974 Blackhawk to Ken Ramsey, Bryan sent me some great new pics
- a 1980 IV-Porte is now for sale by Victory Cars
- additional information for a 1981 IV-Porte
- additional information for a 1984 Bearcat
December, 3rd:
- Tanas Fasheh bought, and restored a 1981 Blackhawk
- Butch Sedlow recolored his 1972 Blackhawk
- David Douthitt put some new wheels on his 1986 Victoria
- the owner of a Dunham Caballista Convertible contacted me, so I decided to put an extra Dunham-Section on the homepage,
and, of course, an extra website for that Caballista Convertible
December, 22nd:
- it took over a year, but now, you can order a Stutz Model in scale 1:43!
All models will be listed in a model-registry, like the real cars
- added new facts to the website of a hot 1976 Blackhawk
- a 1975 Blackhawk was sold on Ebay, car will need "some" work...
- another Dunham Caballista was located in Germany, so I renewed the Dunham-website
Interested in old additions?
Here you can find out what happened in
2008
2007
2005
2004
2003
2002
2001
and here you can find real old stuff